New brand,new journey!VOLLSION SP11-S is a stainless steel high brightness EDC mini flashlight,Vollsion launch its first independent brand product!In order to make consumers better experience with new product,and for subsequent product development,welcome masses of users and fans to participate in the new product Vollsion SP11-S trial experience,the testers have the chance to gain a piece Vollsion SP11-S flashlight as a award,looking forwards to your participation and support.
Product introduction:
VOLLSION SP11-S utilizes a CREE XP-G2 LED,using a AAA battery achieve 2 gears to adjust,maximum lumens is 110 lumens ,the maximun runtime is 60H.From high to low gears switch just need rotate the flashligh body,so convenient and quick.and can avoid the "head"off! The flashlight's bottom is filled with 25 years tritium tube,strong corrosion resistance and waterproof,falling preventing functions,exquisite compact SP11-S is your ideal EDC portable lighting patner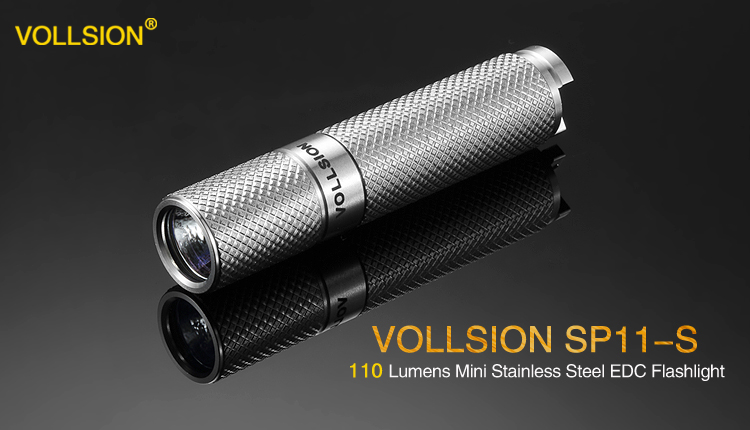 Activity notes:
1,Selected lucky will get free prizes 1 piece of VOLLSION SP11-S flashlight,which trial evaluation in accordance with the requirements.Then release the assesment report to relevant medias in time.
2,Mailing fees paid by VOLLSION
The requirements of the testers
1,Belong outdoor sports enthusiasts,flashlight or EDC lovers,or these item have their own opinion consumers
2,excellent writing and pictures express ability,or trial report can be make into vedio clip
3,Once made more than 1 assessment report,content unlimited
4,The trial report can be released to several medium,Best to ourdoor,flashlight,photography or EDC equipment and other sites,or the relevant newspaper and magazines
Tester register
1 registration time2016 13th of May-20th
2,application method:
Your name ,telephone No,mail address,delivery address,previously issued by relevant assessment links the 5 items information all send to as belowmail address,we will be random tp choose from it.
Mail address:Marketing@vollsion.com
Tester public
1,Pubic time:2016 20th of May
2,Public website:
Vollsion official website:www.vollsion.com
Vollsion wechat:VOLLSION户外用品

Tester product and experience reviews' pubic requirements
1、the content including:
A, products appearance and personal feeling
B,Product pictures or video,need product appearance and application environments
C,Product application environments description and the process
D,The advantage and disadvantage and advise
Notes
1,About the review tester,vollsion would check by E-mail,after the mail sending with 7 days working,in other words that 1 week later you don't receive our reply,would be deemed abandoned automatically
2,The test product tentative 2016 27th May begin to delivery the items(exceptional case may lead to delay to delivery the goods)