Introduction:
The VOLLSION SP11-S EDC flashlight Utilizes Cree XP-G2 LED with a lifespan of50000 hours,it turns AAA-tiny battery into useful personal lighting with 110lumens max output. Simple twist switch operation manages two brightness levelsin this 63.8mm flashlight. Stylish stainless steel construction 、excellent Optical system、IPX-8 waterproof and drop resistance make SP11-Sto be a great exquisite EDC assitstance with the great anti-corrosion.And the special design on the tail with thelifespan up to 25 years Tritium tube make it more glowing in the dark
Manufacturerspecifications:
CREE XP-G2 LED
Micro orange efficient metal reflective cup +optical double coated lenses
High quality304 stainless steel shell design
High efficiency constant current constant light circuit 2 gears
110 lumins for 1.5 hours
5 Lumins for 60 hours
Maximum intensity:450 candela
Maximum range:45meters
Head rotary phase(tighten to close ans loosen to turn on)
Size:63.8mm(Length)*13.6mm(Diameter)
Weight:22G(not included battery)
1piece AAA battery(compatible 10440 rechargeable lithium-ion battery)
No obstruction hole,perfect inverted,used like a candle
Filled 25 years life tritium tube on the bottom
IPX-8 grade waterproof(submersible to 2 meters)2 meters drop resistance
Standard configuration:waterproof O ring*2,key ring*2
Packaging:
Simple packing by kraft paper box,both front and sides have brand logo,thefront is product information,and the side is parameters.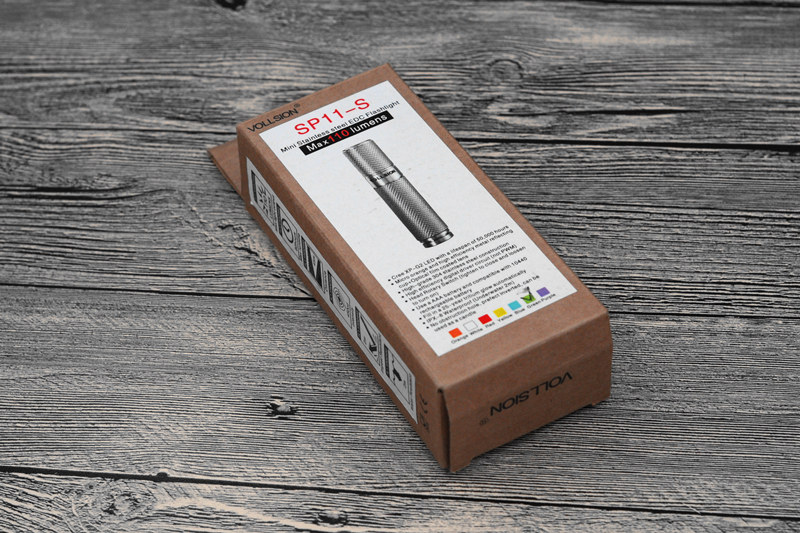 Accessories:
There are sponge protection to flashlight,manual,accessories,etc.Just lack oflanyard.But it is dispensable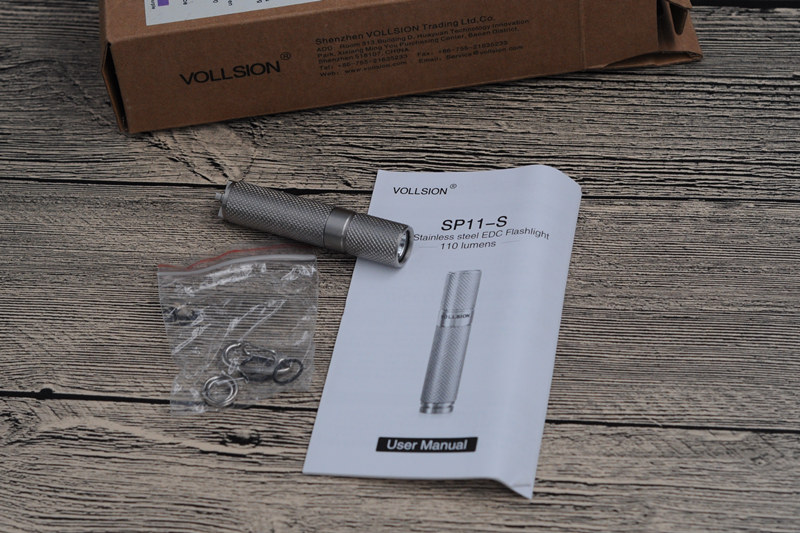 LED:
The XP-G2 LED ,right in the center ,better than FENIX E05SS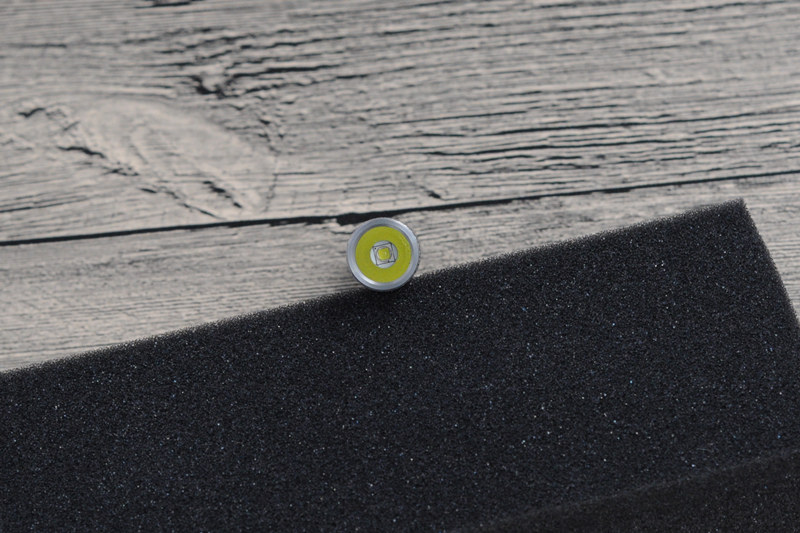 Build quality:
Exquisite knurled,it is stainless steel material,slippery resistance effect ismuch better than aluminum alloy,smooth rotate the head to adjust the open orclose and the light intensity,very simple but elegant lovely knurl,texture andhandiwork is top-notch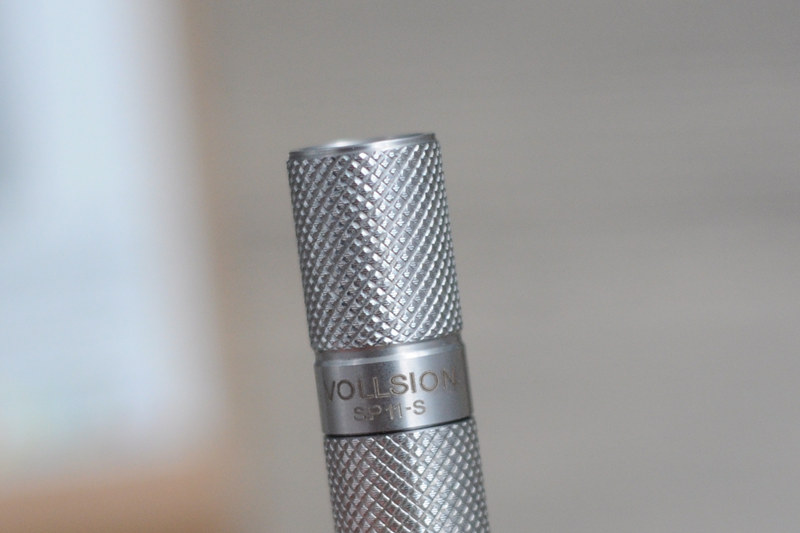 Thetail of the flashlight is T shape design,half is key ring hole,and the other istritium trachea slot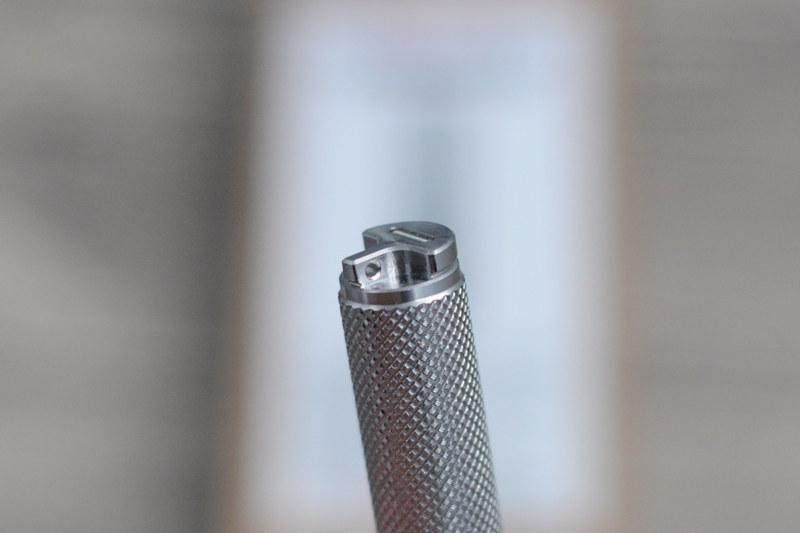 Thefeature of the tritium trachea,it is in the middle,plenty of light,the tritiumtrachea is just 1 color,only in the dark can appear different colors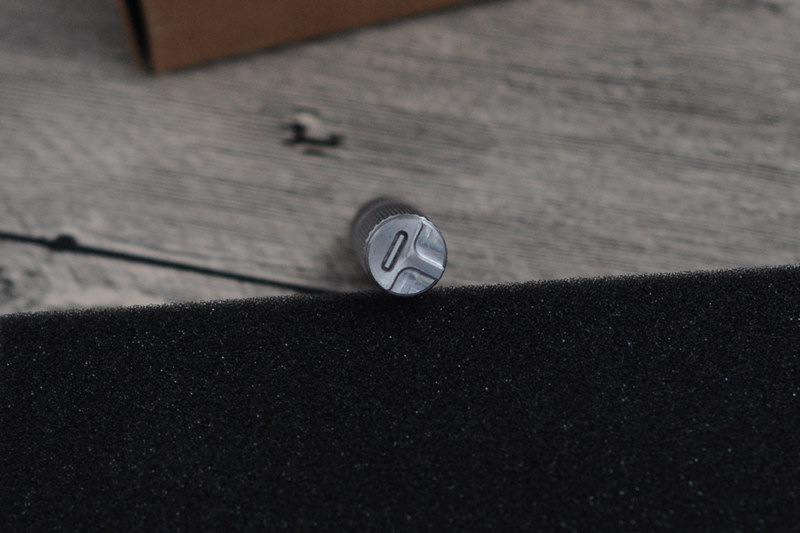 Squarethread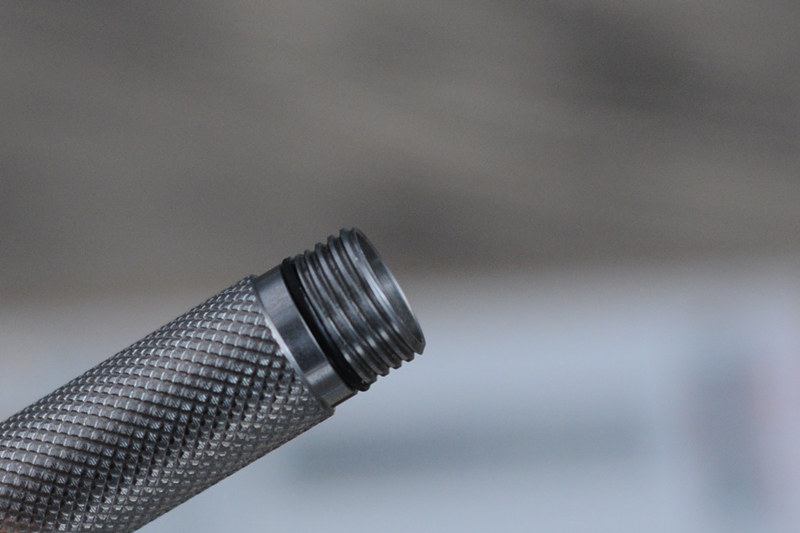 Goldplated spring head,conducting more efficient and not easy to oxidation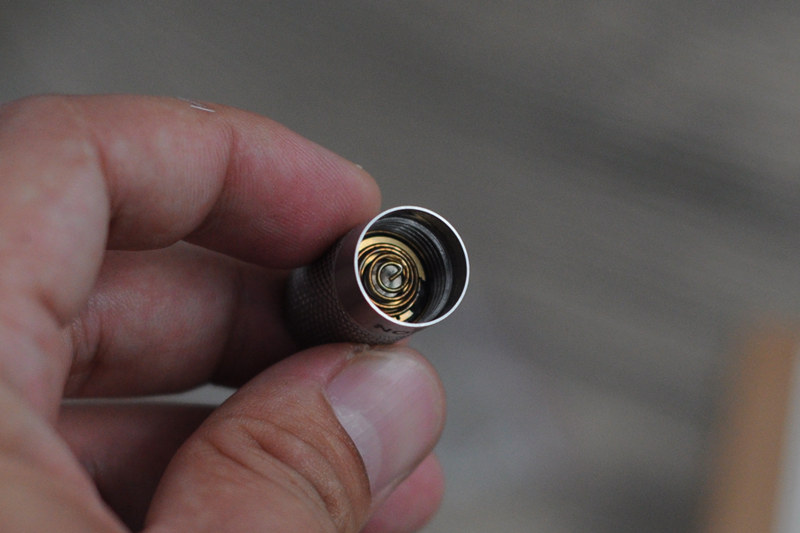 Bluecoating lens,can be seen from the both sides of the blue light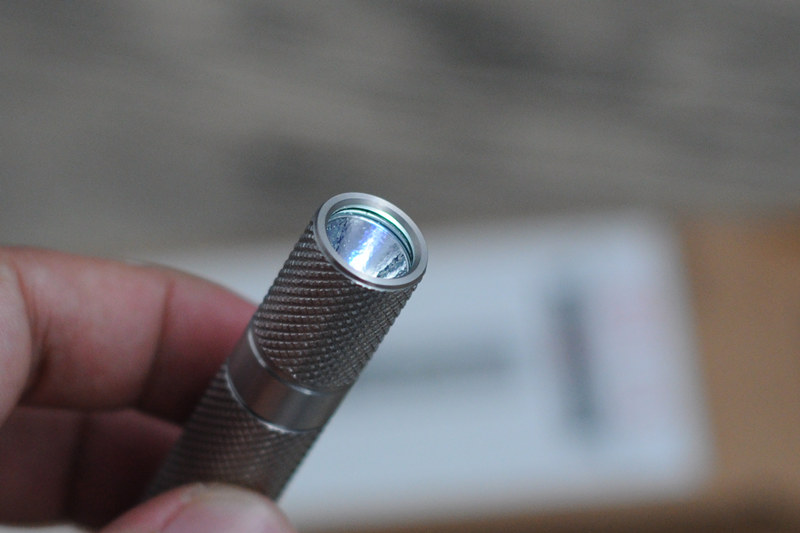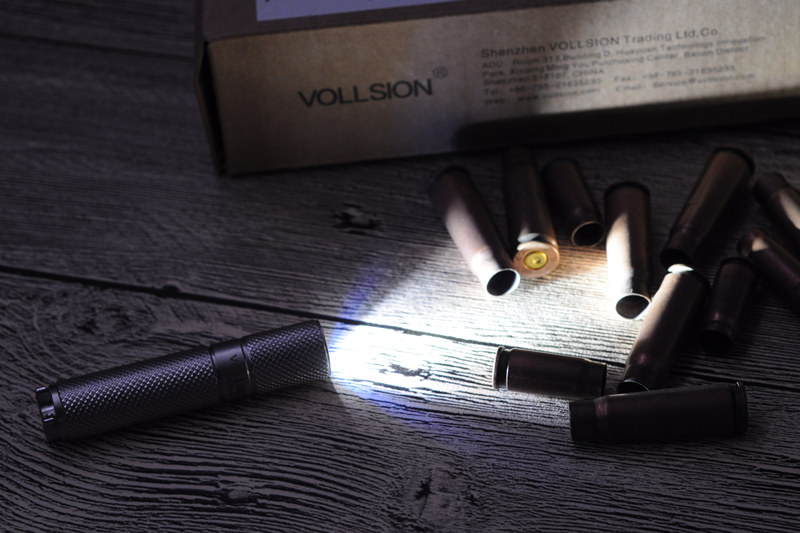 20cm beamshot,perfect!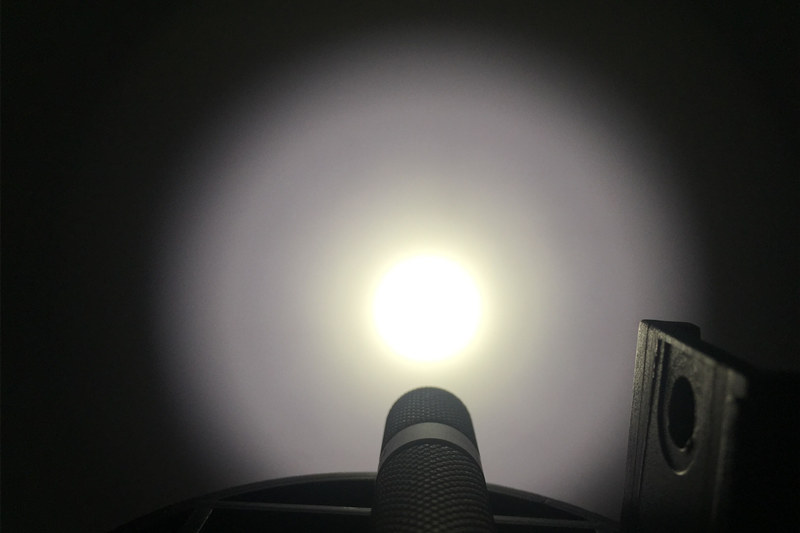 1meter beamshot ,And you can see,this flashlight's tritium is green, i canquickly find the light source and use it in a dark environment!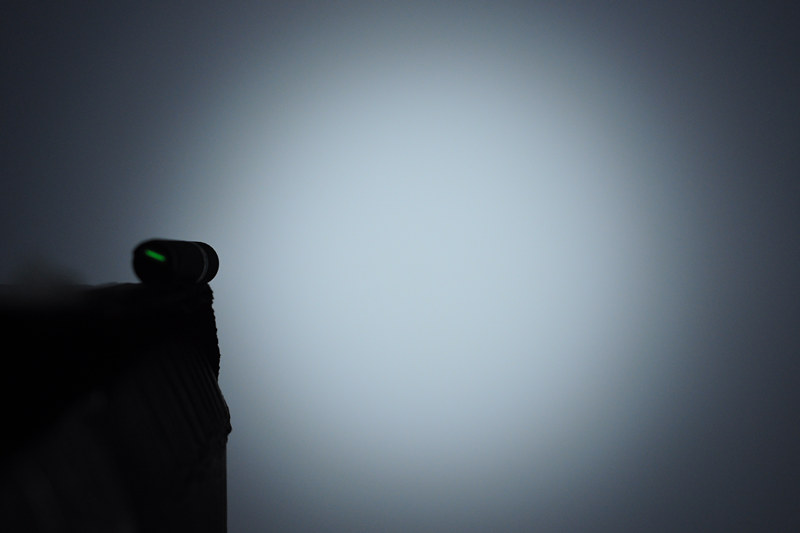 Comparedwith Iphone6s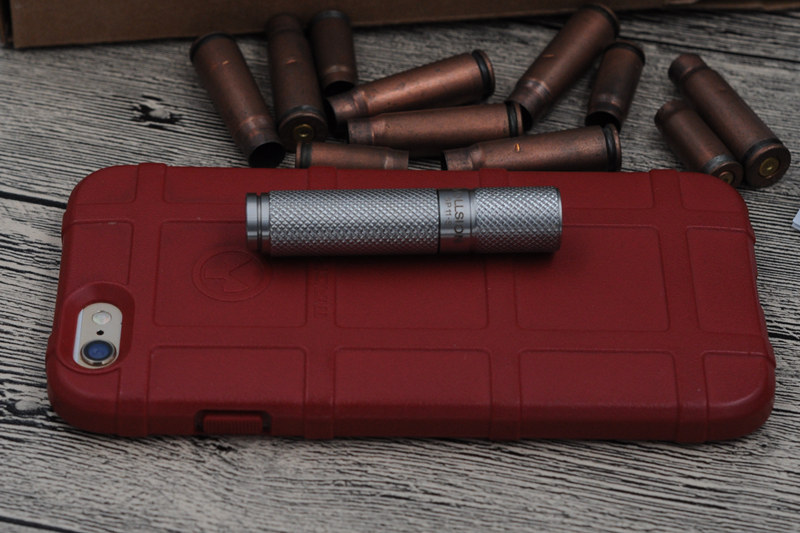 Comparedwith SwissGear!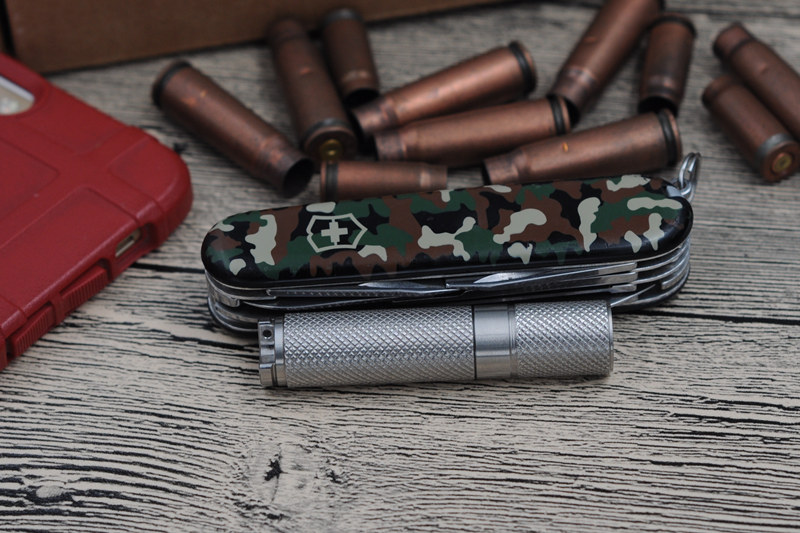 2 pictures about the tritium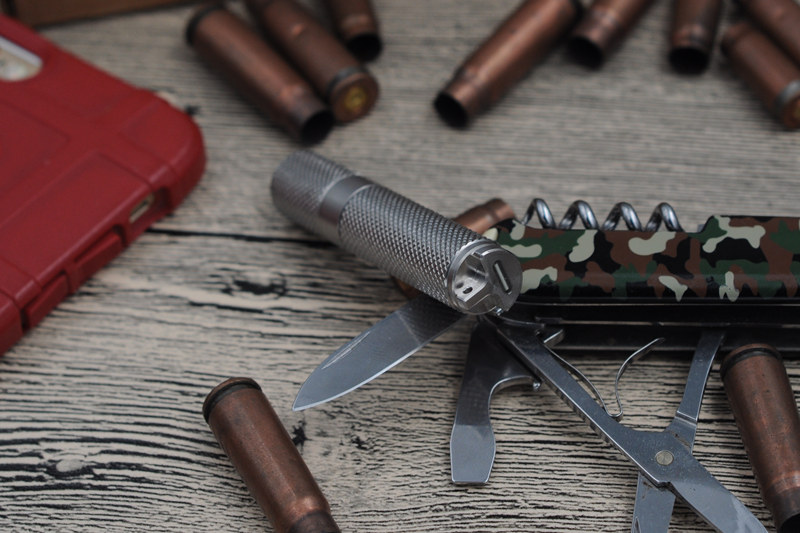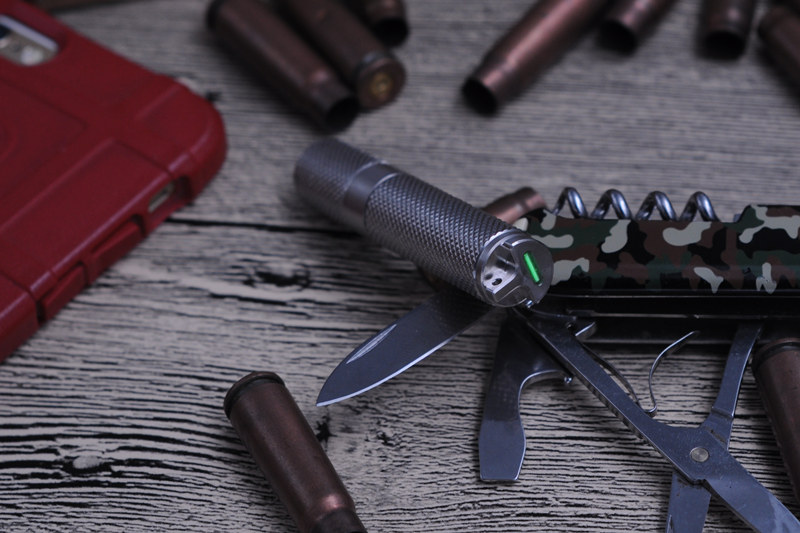 Lightup in the bucket for 30 minutes,the waterproof ability is OK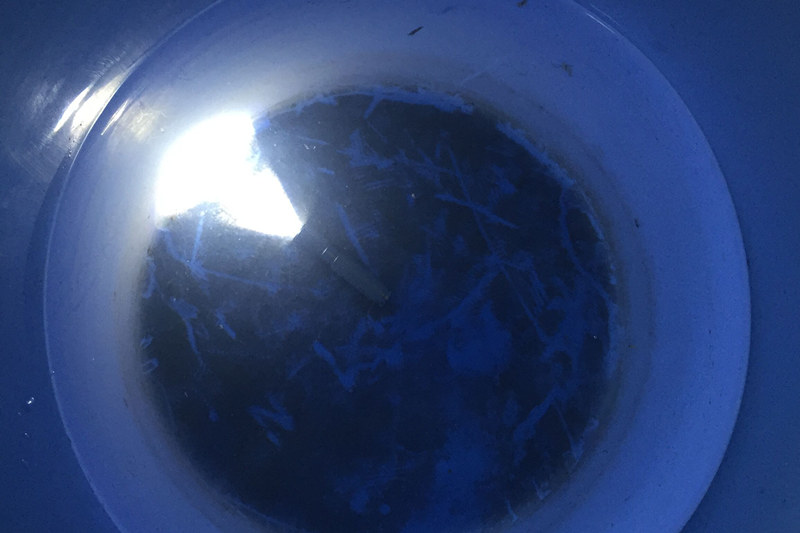 Mythoughts:
Compact size.Excellent quality , all the details are well done !
The dimming method is very very good,it can avoid losing its head (if it islosen to turn off , the head will eally be lost when we carry it everyday)
the tritium tube,is very beautiful,though it is not too big, it can help me tofind my keys and flashlight in the dark,and five colors for choosing !
but the appearance design is too ordinary!
Thanksfor reading my first review ! !